House Tour. A Nouveau Bohemian Apartment All In White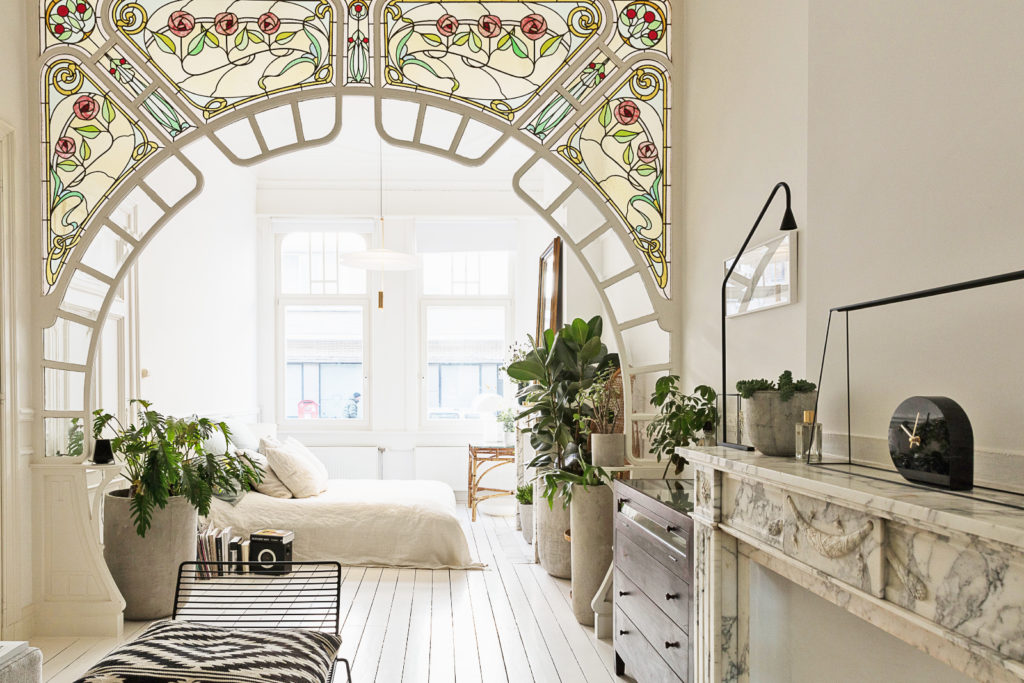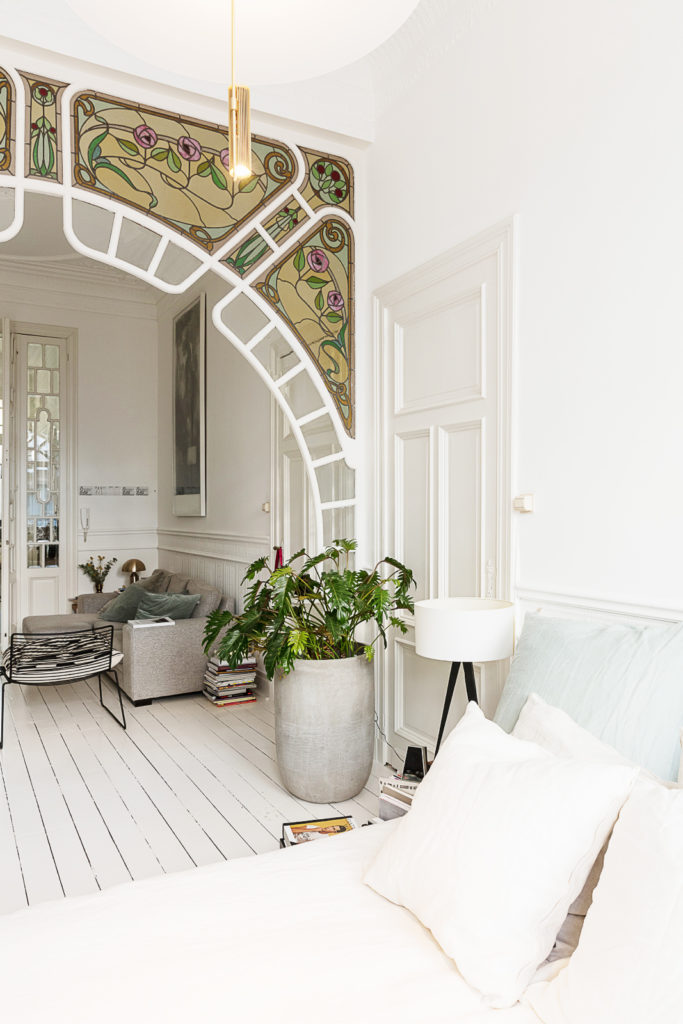 Here's a new approach to finding your next apartment: hunt down a space with the most beautiful stained glass arches, fabulous tiled kitchen floor, paned window doors, and stunning marble fireplaces. Then, decorate with simple furnishings, whitewash the entire space, and add plenty of plants and hints of whimsy. What do you get? A nouveau bohemian apartment that couldn't go wrong if it tried.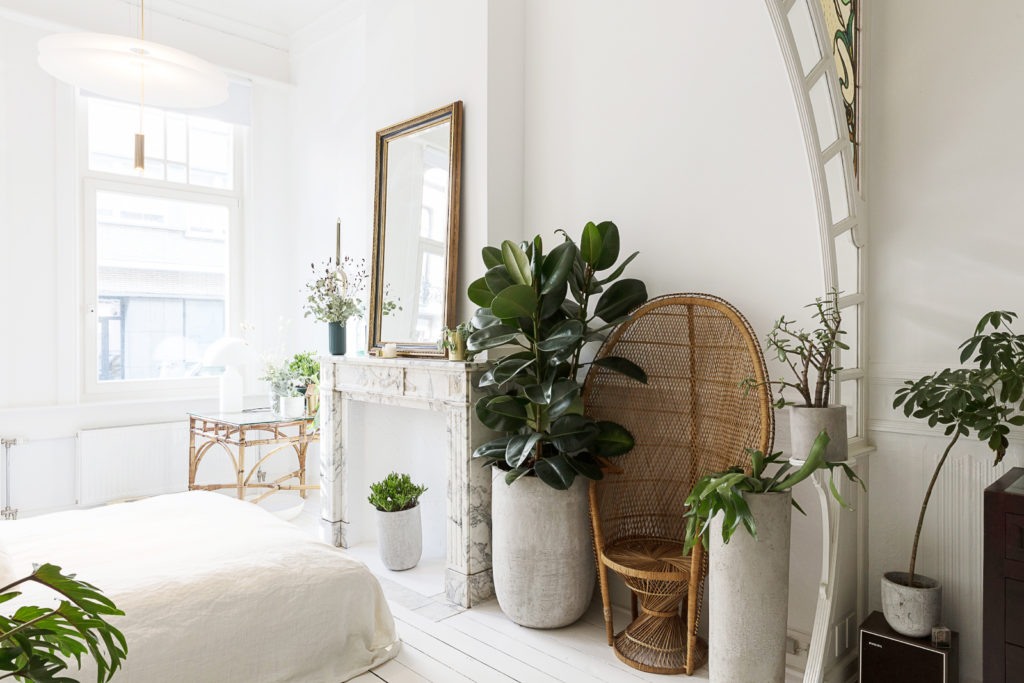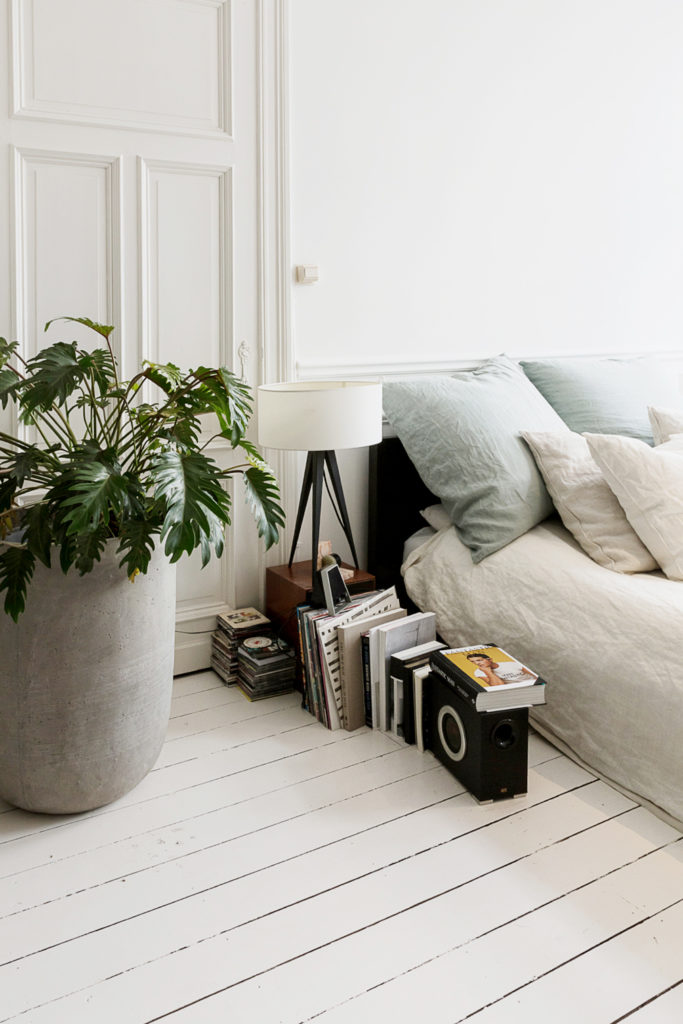 I discovered this gem while going down a rabbit hole of looking for beautiful stained glass windows, and couldn't resist sharing the entire space. It may not be the most exciting when it comes to decor, but when you have architecture like this, who cares? And — surprisingly — if you take a second look at what feels like fairly basic selections, you'll see that they are hardly cheap. Would I have opted for a slightly different sofa? Absolutely. Perhaps a pink velvet chair? Yes. But I like the minimalist approach to the design overall, as it really allows the details to sing.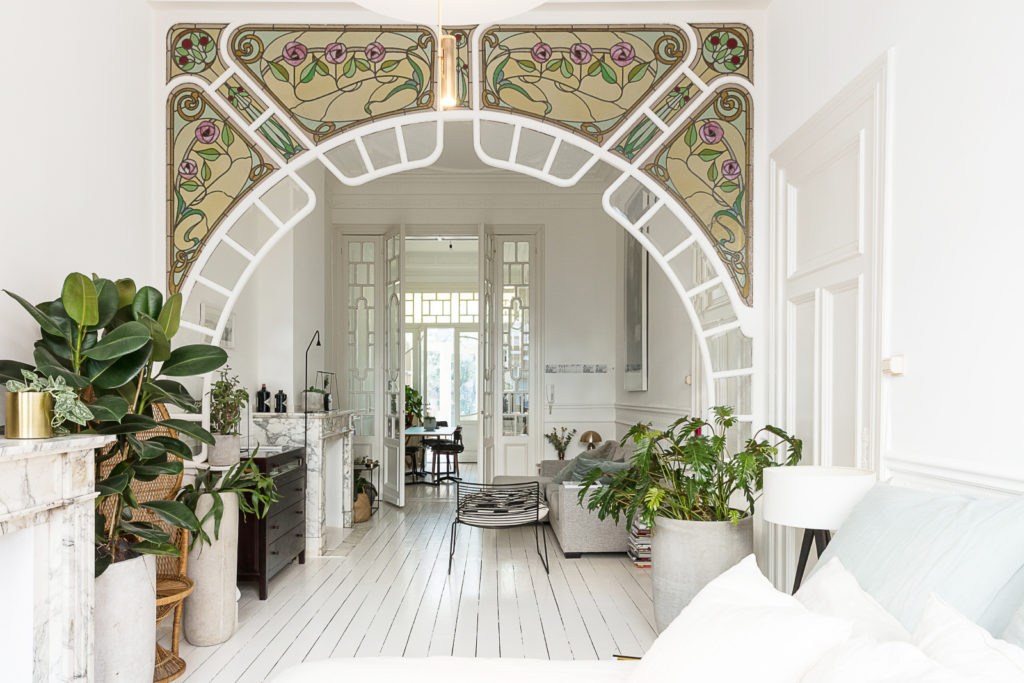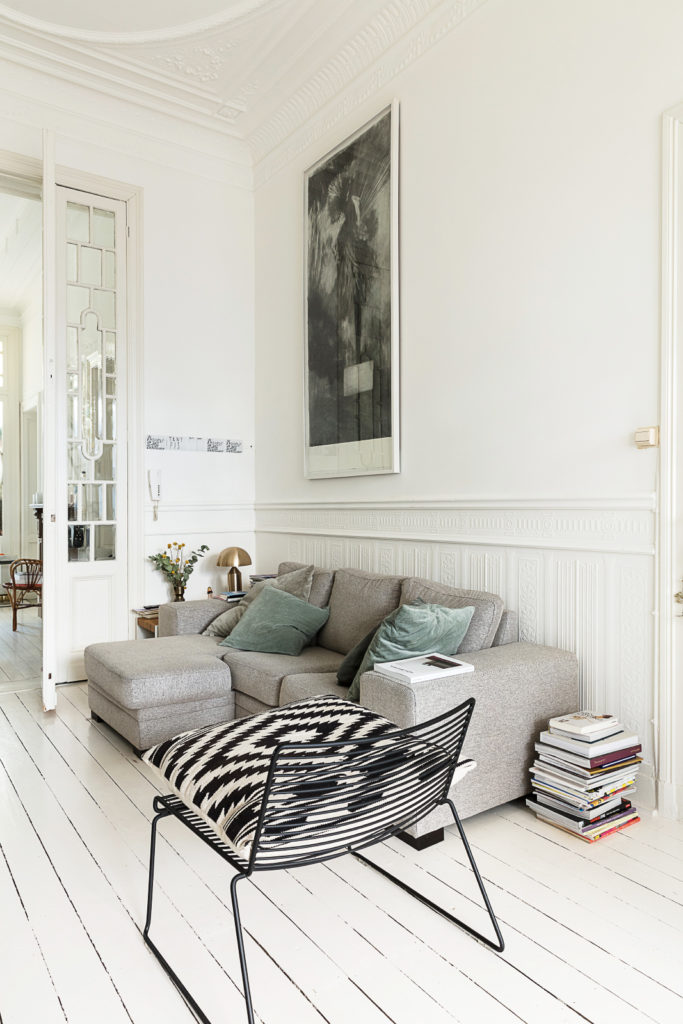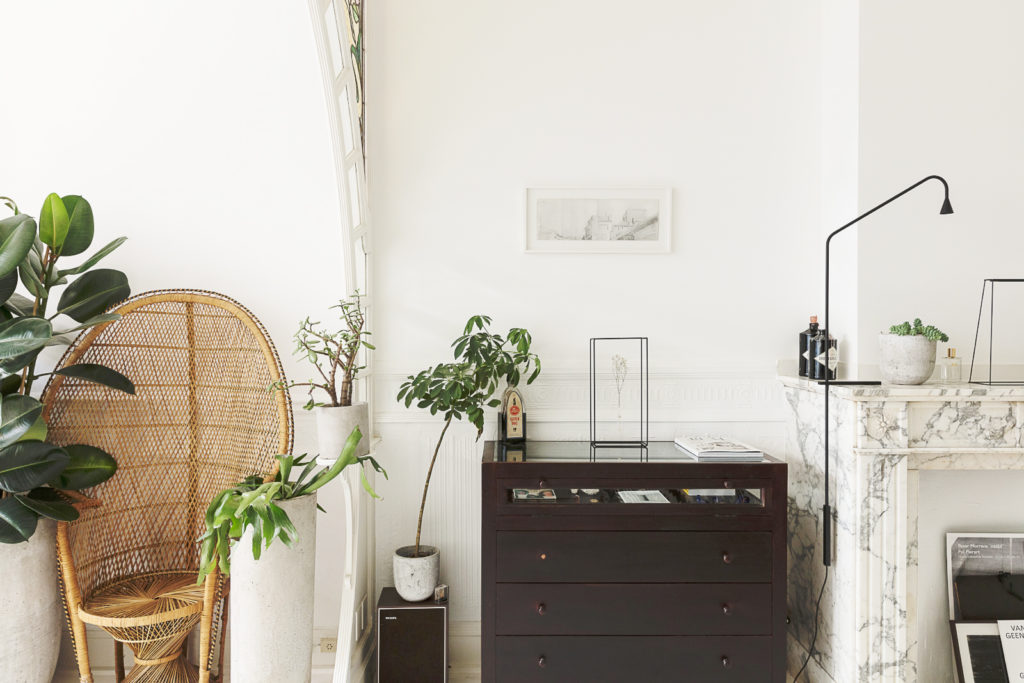 The placement of the plants in the bedroom do double duty as decor while adding a bit of privacy between the living and sleeping areas. There do appear to be some closets in the space, but I like how the dresser has taken up residency in the living room rather than clutter up the bedroom.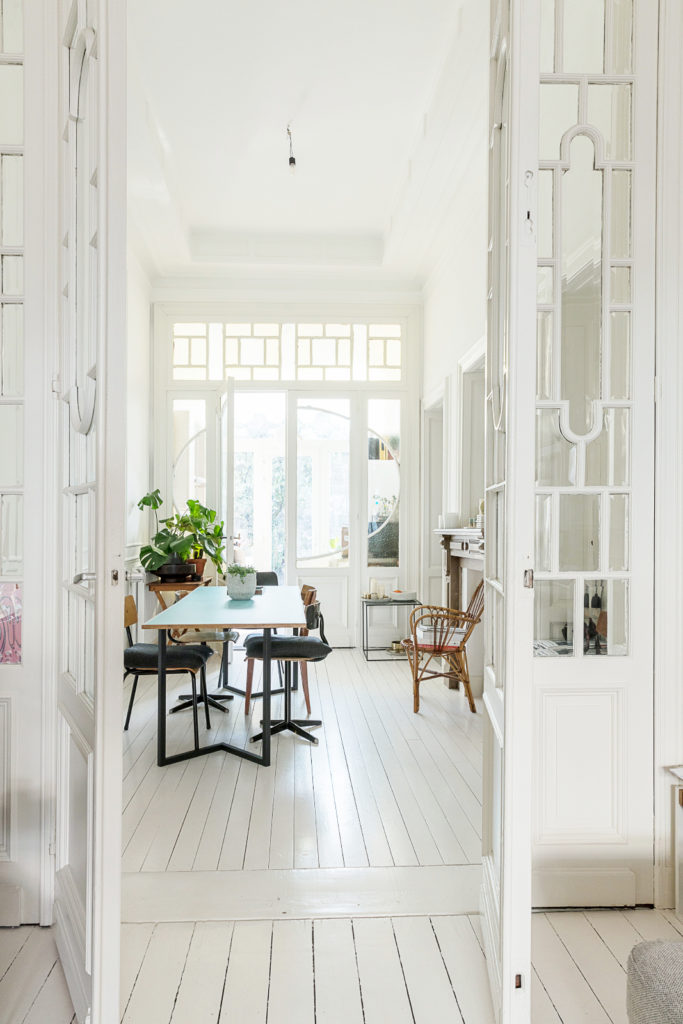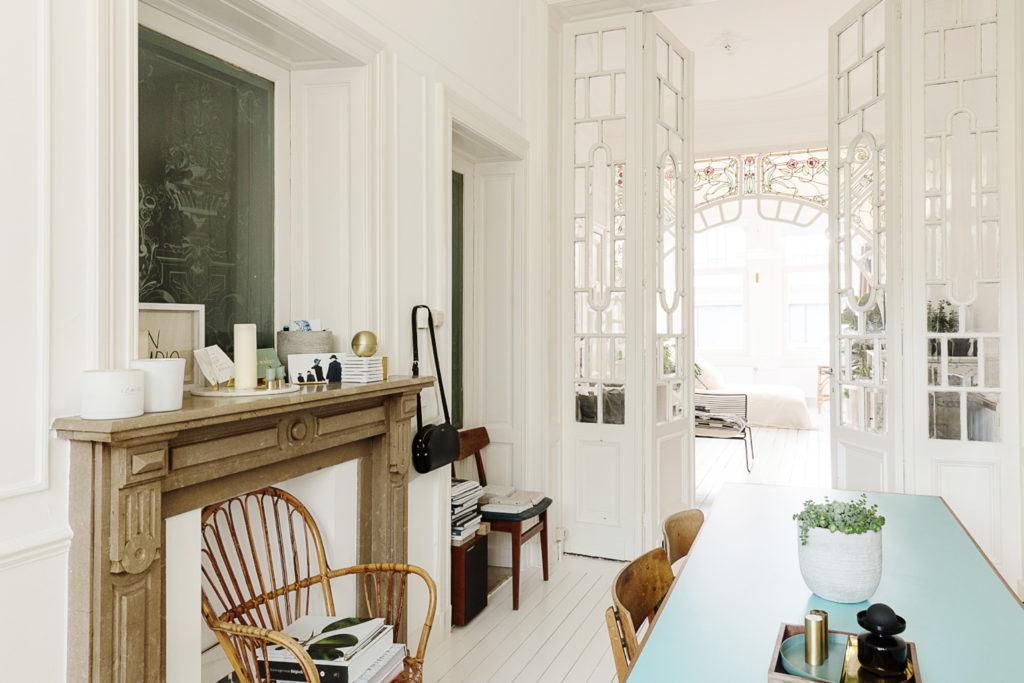 Another noticeable detail is that the art is minimal. It fill the walls and nooks just enough to add personality, without taking away from the expanse of white walls that lead from room to room.
The doors in the dining room kill me. They are so fantastically beautiful! It's pretty tragic, however, that with all of these statement making mantels there's not one fireplace that actually functions. The owner has made good use of them though, tucking in plants, artwork, and — here — a little chair to stack books. I certainly wouldn't mind having several mantels to style as I wish!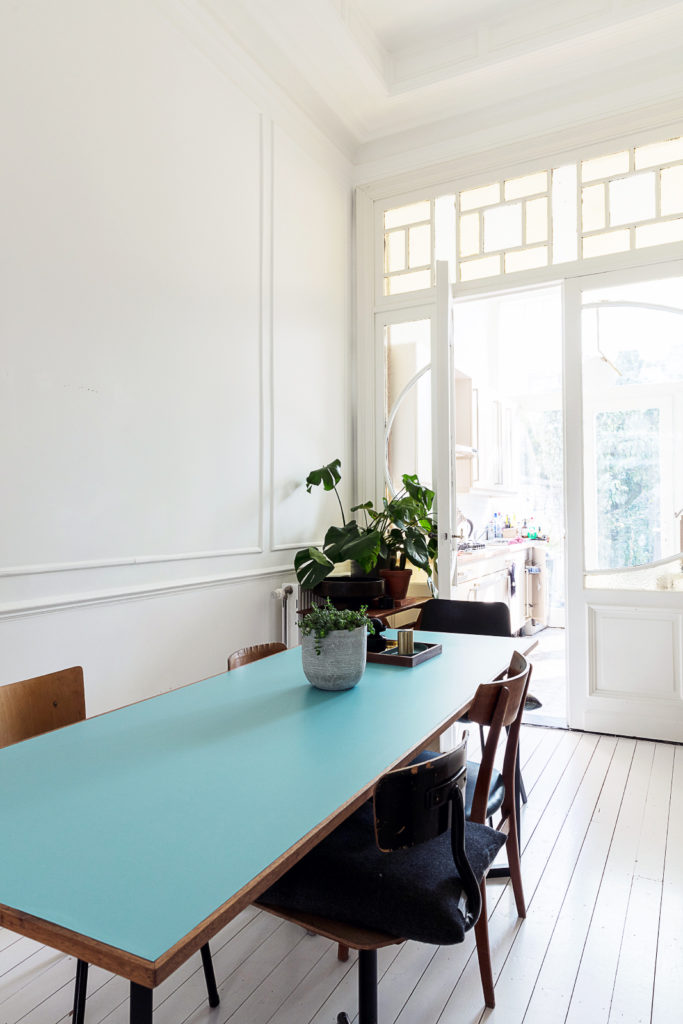 I also love the unexpected turquoise table in here. It brings a playfulness to the space and draws your eye to the back of the apartment.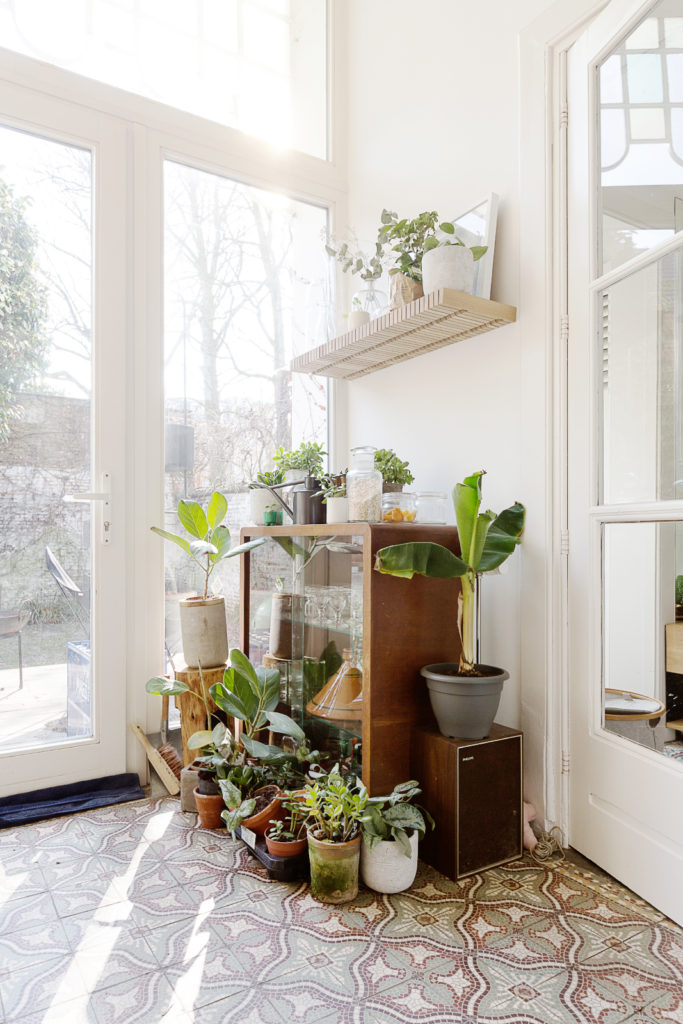 While the kitchen could use a few updates, I do love the creamy colored cabinets, butcher block countertops, and — of course — that tile.
The vintage cabinet in the corner is also a pretty charming little moment! If you're wondering how on earth a stylist could have missed clearing the counters, or removing the towel at the doorway (stopping the cold air from coming in, one can only assume), it's likely because these images were shot for a location studio, not for a magazine. But a little real life never hurt anyone, right? I think the 'styling' throughout feels more like an Airbnb listing and I like that — it shows that someone actually lives here, which I think is lacking so much in styling these days.
What are your favorite details of this space? It's making me miss apartment living, I can tell you that much! I always loved that feeling of moving into something temporary — but lovely — and making it my own.