Makeover. Guest Room. From A Boring Basement Bedroom To A Tropical Escape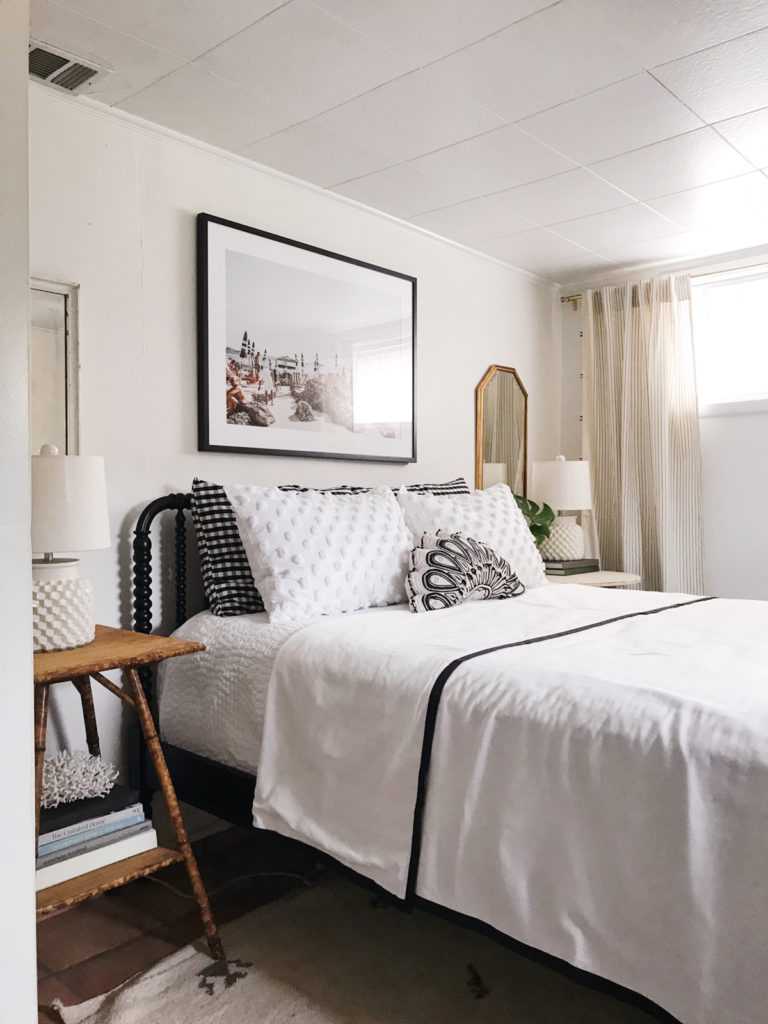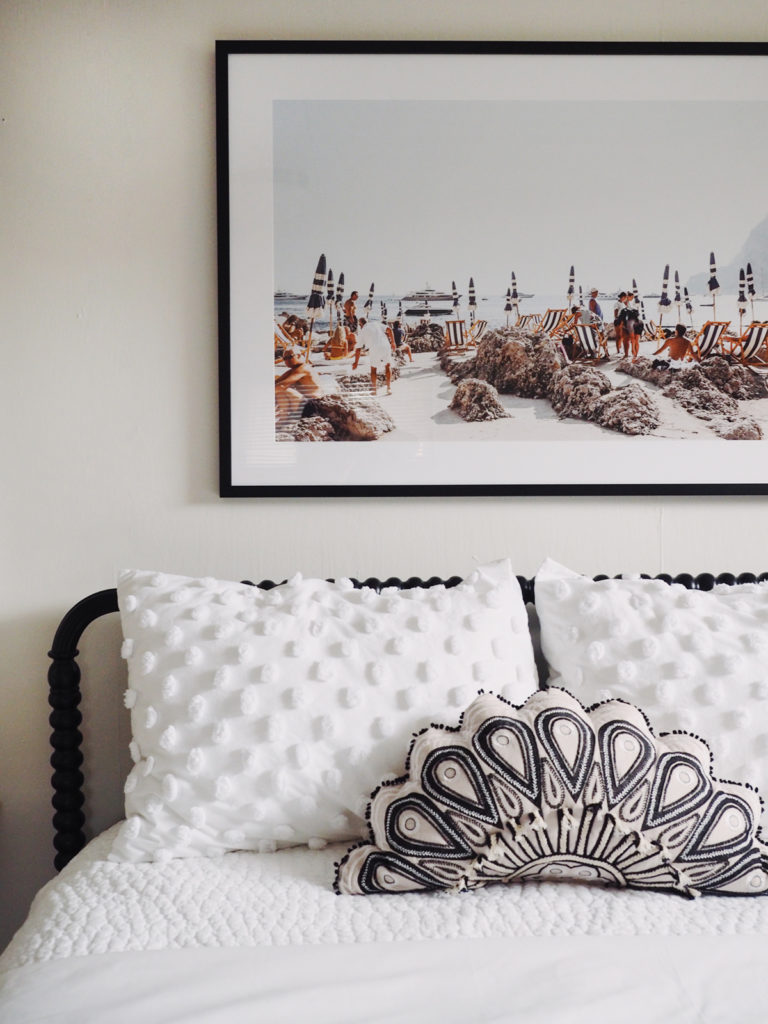 It's been a minute since I gave you all any house design updates, but I'm back with a peek a progress on my guest room makeover today! For a reminder on where we started, here is the inspiration post. We had decided to embrace the tile floor in our basement and make it feel like an escape to the Mediterranean, but I needed to start with the basics: a coat of paint, some new furnishings, and some vintage and thrifted finds have gotten us to where we are today!
First off, how good is that art above the bed from House of Spoils!??  It seriously sets the tone for the room, and also makes me wish I were lounging on a beach in the Italian Riviera. *sigh*
As for the big stuff, last month, I partnered up with The Bellevue Collection to do some one-stop shopping for this room. The biggest purchase was this Crate & Barrel bed! I love it you guys. It's just the look I was going for in this space. Since the room is quite small, having a frame that felt visually lighter was so important to me!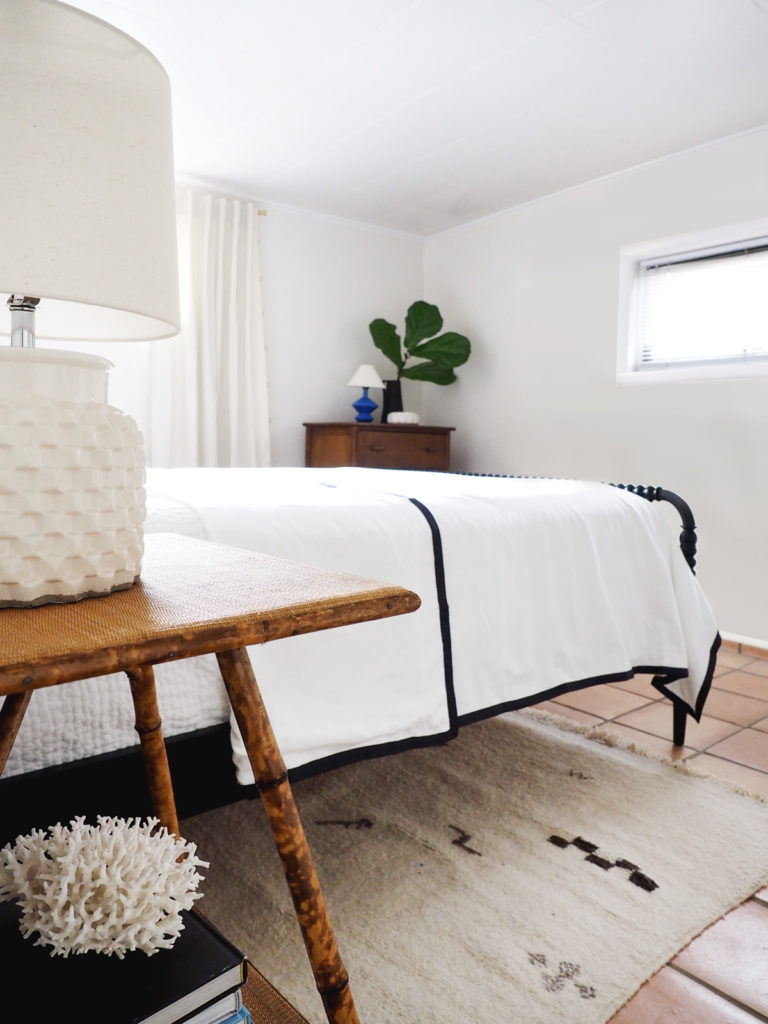 I also purchased the pair of bedside lamps from Crate & Barrel, and I think the fun texture on the ceramic base adds a lot of visual interest to the room.
Because I wanted to do this room on a budget, I repurposed a lot of pieces we already had in the house. The dresser, for example, is one we've had forever and was already originally in this room. The rug I moved from our upstairs bedroom down here, where I like it so much more. I also already had the drapes — purchased a while ago at West Elm on a whim. I have a second pair to hang in the other window, but am waiting for the second drapery rod to show up.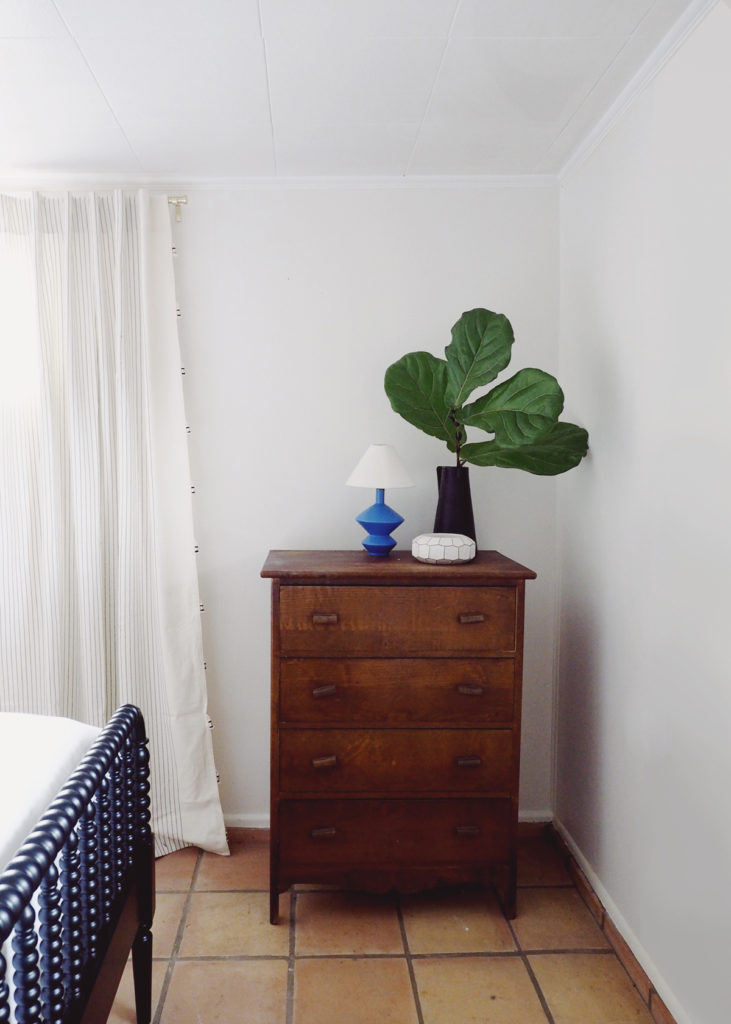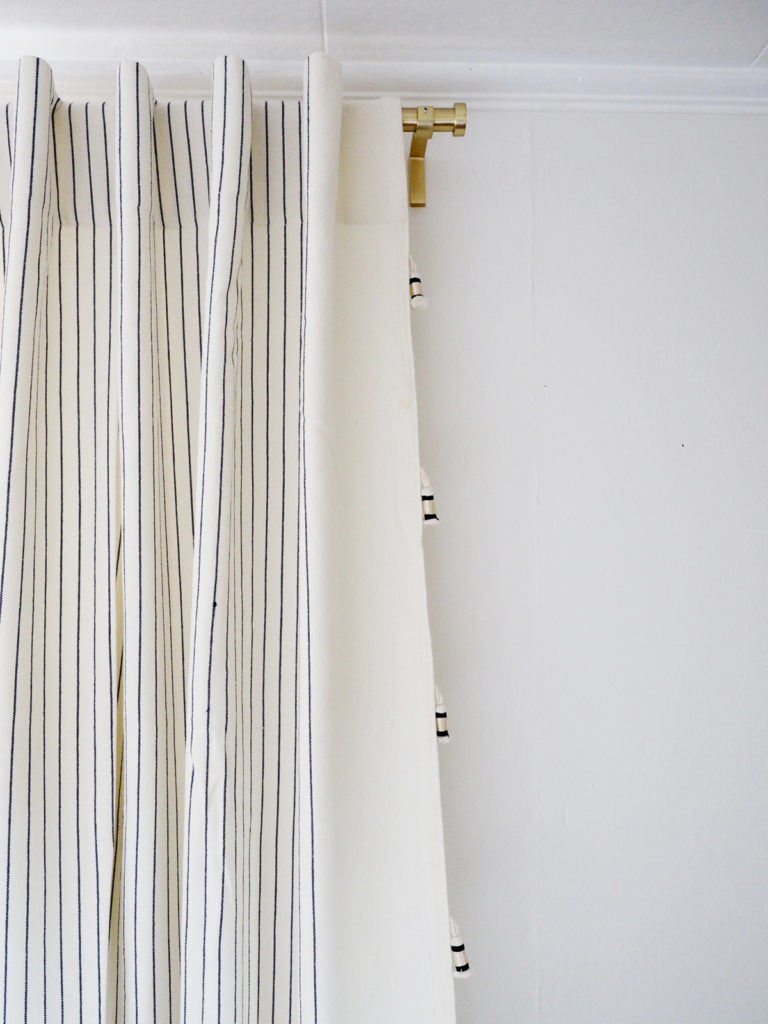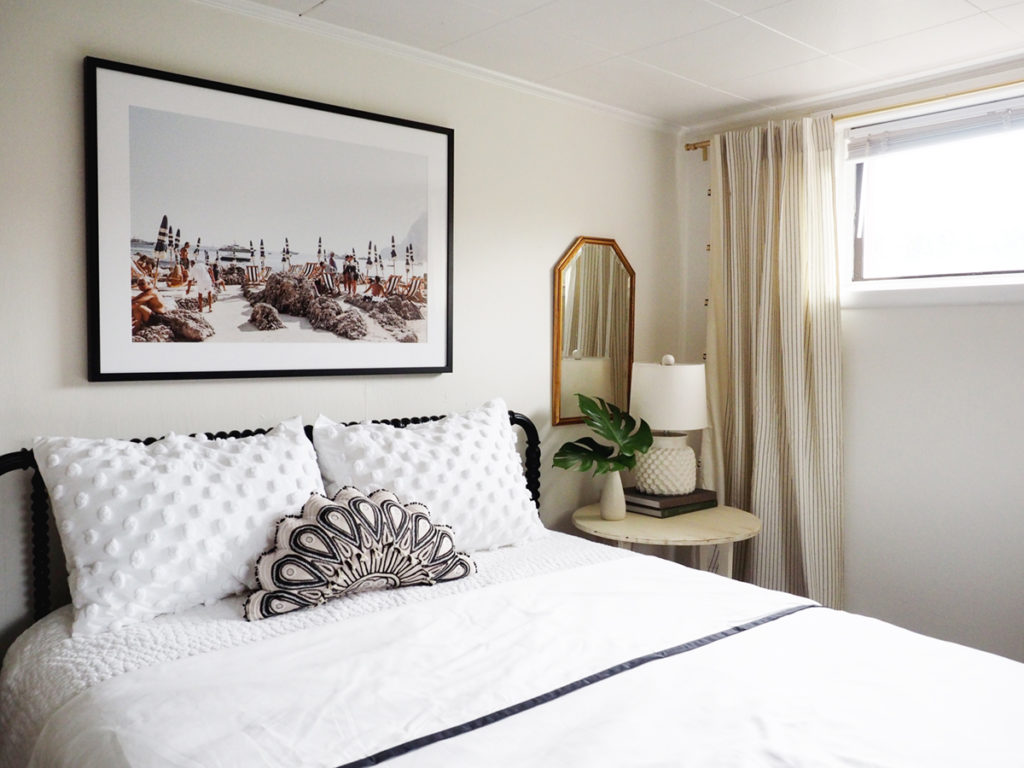 Considering that today is Earth Day, I have to point out that it always feels really good to me when I can find new homes for pieces I've held onto. My husband tends to give me a hard time for not letting go of stuff, but when it comes in handy like this, we're both pretty happy to not have to go out and purchase everything new!
The fun pom pom pillows were another item I found while shopping at the Bellevue Collection, and they're from Pottery Barn. SADLY, they basically immediately sold out! Ugh! I found some similar ones here that may actually be a bit more practical for sleeping on.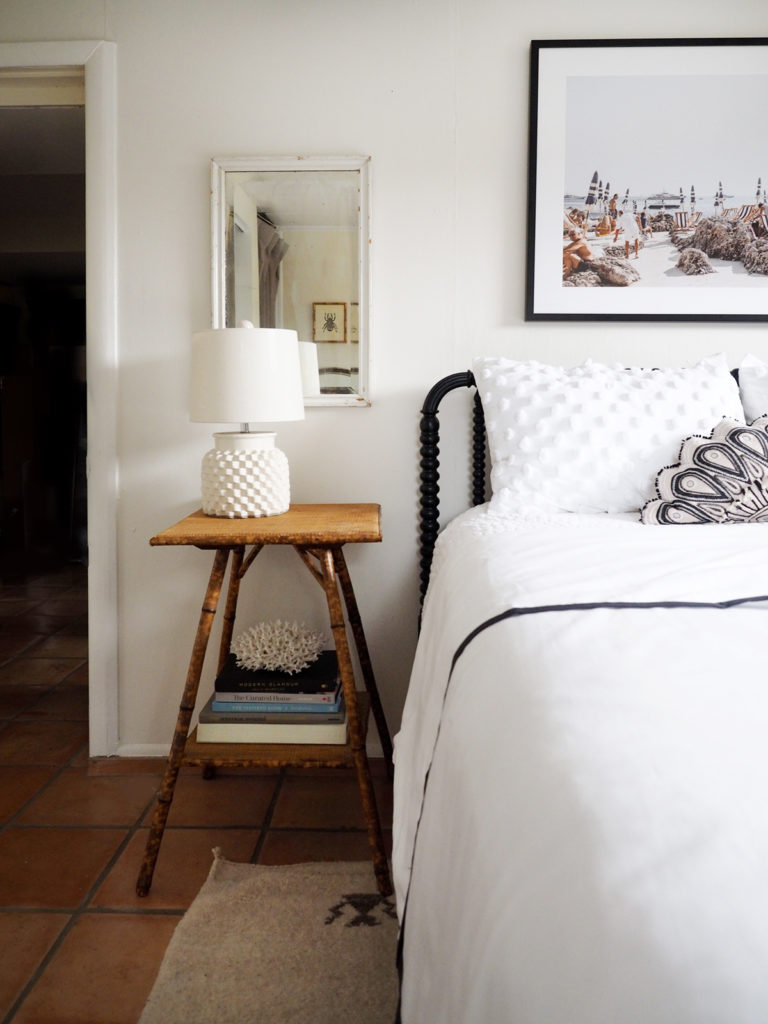 Another thing to note in this room is that we are likely going to have to tear out the ceiling and do some major refinishing of the walls at some point. Because of that I wasn't about to splurge on wallpaper, even though I 100% want wallpaper behind that bed!! Maybe even the whole room? But for now, that's off the table.
Last but not least: in an effort to really finish off the room quickly, I wanted some simple, affordable nightstands. I basically got incredibly lucky with these two pieces that are similar scale and height! The bamboo is actually exactly what I was looking for, and if I can find another one, I'll likely replace the cream table with a second bamboo table. I like the idea of having a spot to stack books for guests when they're staying in here!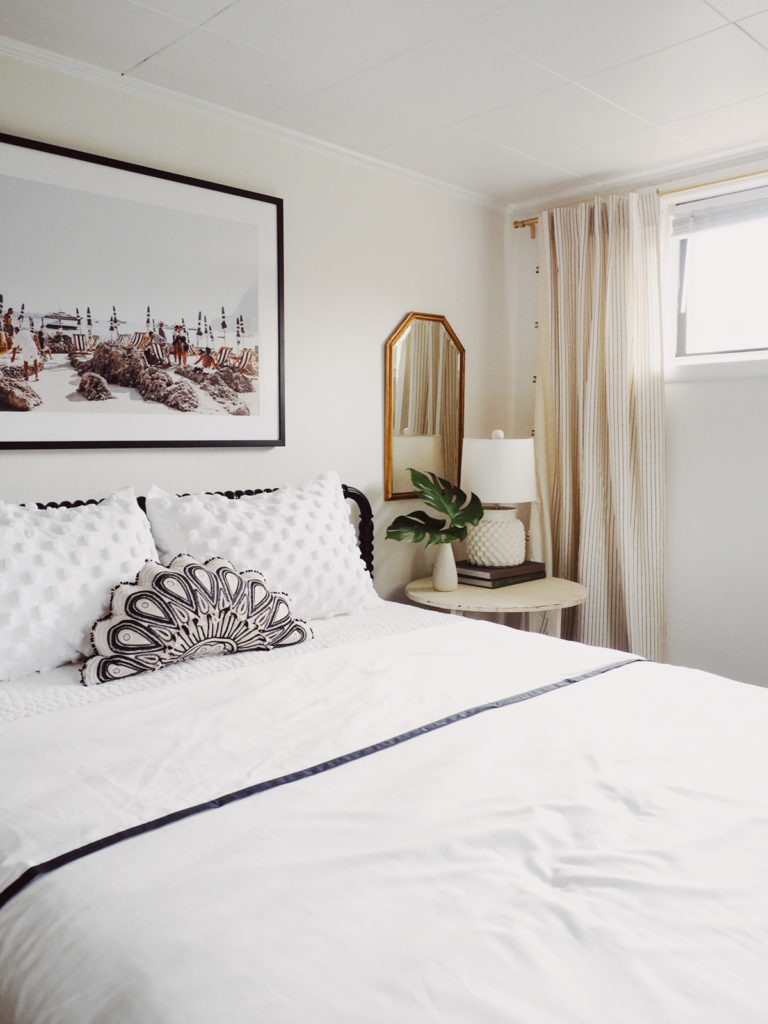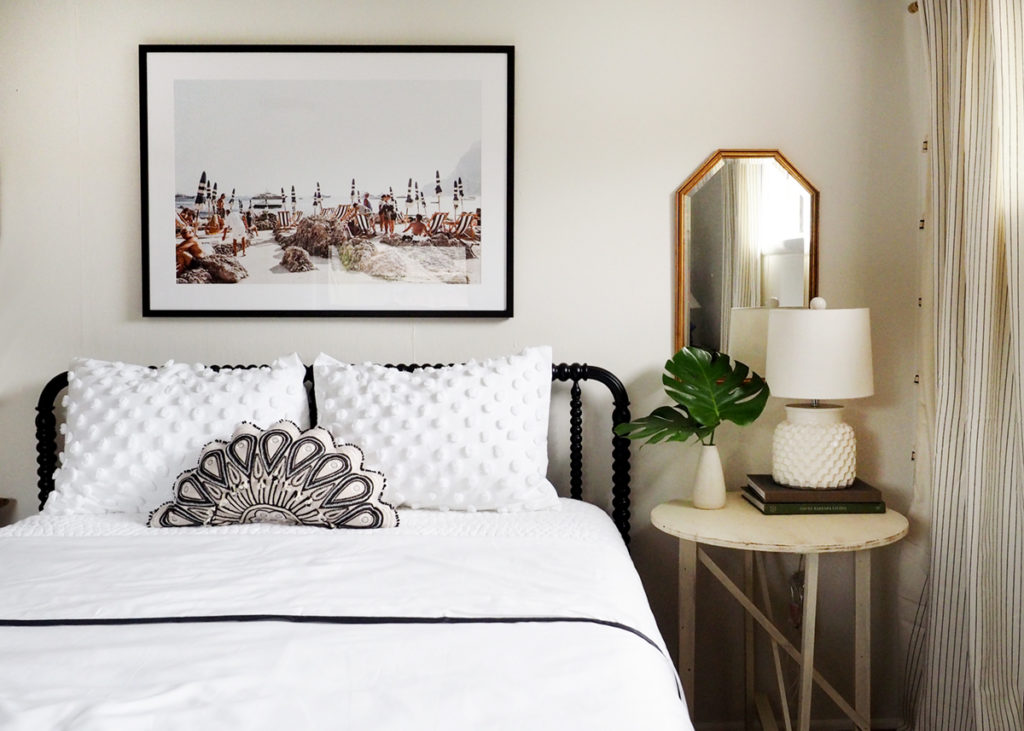 To balance out the artwork, I found the vintage white mirror to 'match' the gold mirror and juxtaposed the white above the wood table, and the gold above the white table. I think it works for now?
I feel like there are quite a few more details that need to be addressed in this room, but we're getting there! Most of all, I like sharing spaces like this with you guys because I think it's important to talk about rooms and pieces worth investing in but also showing were we maybe skimp or re-use! We have so much STUFF and I love when I get to find a new home for it! I've also been trying to balance our new items with vintage finds a lot more. Not only do they add so much character, but it feels better from a consumer standpoint. What do you think about the direction this room is going in!? Anything you would change or add??